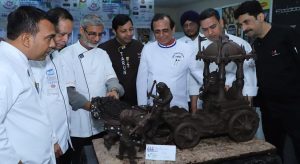 During its 15th edition, Culinary Art India (CAI) will return to the national capital
By IANSlife
February 15, 2023 (IANSlife) The 15th edition of Culinary Art India (CAI), a professional culinary challenge, will be hosted by Indian Culinary Forum (ICF) in conjunction with the 37th edition of AAHAR International exhibition 2023, the International food, hospitality, and drinks tradeshow, which will take place on the first-floor foyer, hall number 5, Pragati Maidan, New Delhi, from March 14 -18, 2023.
The professional culinary challenge is planned to attract national-level participation from senior and trainee chefs from India competing on a stage modelled like the Olympics. The CAI's major purpose is to provide a professional forum for culinary professionals from around India to demonstrate their individual and combined talents, and creative talent, learn, share experiences, partner, and network in a purely business-like and competitive setting.
"Indian Culinary Forum has set the standard for culinary competitions in India. The hospitality industry has also undergone significant change, with new trends in lodging, food and beverage concepts, and super specialty restaurants. Despite this, food is and will always be at the heart of this industry; ICF took the lead to start Culinary Art India fourteen years ago, where chefs are given a platform to demonstrate their culinary skills as well as help them improve to meet international standards. This experience has not only provided fellow chefs with excellent exposure to showcase their culinary skills but also to learn and share their culinary knowledge with other contestants," said Davinder Kumar, president of Indian Culinary Forum.
"I would like to assure all participants and members total transparency through a structured rules, regulations, systems and panel of WACS certified judges. The ICF will continue to strive to bring our fraternity closer together and to encourage the betterment of the culinary profession through improved education, related industry events, and collaboratively setting new benchmarks in the hospitality industry," Kumar added.
"This event has evolved from a competition venue to an educational platform for chefs to learn, exchange, and showcase their culinary skills. Previously, CAI 2019 drew nearly 300 participants from not only the NCR but also other Northern, Western, and Southern states. The Professional Culinary Challenge will be an international event for young chefs to demonstrate their mastery of their craft and be accredited by a panel of internationally acclaimed judges. This year's event will be the biggest ever with newly added categories and an expanded competition venue. "We welcome and invite all Chefs to send in their participation to Culinary Art India, 2023 so that you can share your experiences through this prestigious culinary event," said Indian Culinary Forum, General Secretary Vivek Saggar.