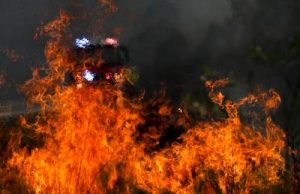 Canberra, Sep 7 (IANS) Authorities have declared the entirety of Australia's Northern Territory (NT) a fire danger area until the end of February 2024.
Following a meeting on Friday, Bushfires NT and the NT Fire and Rescue Service said in a statement that the entire territory — an area covering more than 1.4 million square km — will be considered a fire danger area from Saturday to February 29, 2024, reports Xinhua news agency.
Chief Fire Control Officer for Bushfires NT Tony Fuller said forecast higher-than-average temperatures had significantly increased the catastrophic fire risk across the territory.
"Eighty per cent of the territory was burnt during the 2011-12 season from wildfires, and due to consecutive La Nina years and above average temperatures forecast this summer, this could repeat again this season," he said in the statement.
Under the NT Bushfire Management Act all landholders in declared fire danger areas are required to obtain a permit to light a fire.
Any person who intentionally lights a fire in a danger area without authorisation to do so faces a maximum penalty of five years' imprisonment.
The declaration was made as a large bushfire continued to burn uncontrolled across more than 6,000 square km in the NT's central Barkly Region on Friday.
NT Police Commissioner Michael Murphy told a press conference on Friday morning that the blaze was not an imminent threat to life but could impact supply lines.
He confirmed a Territory Emergency Management Council (TEMC) has been activated in response to the blaze.
"It is a huge impact on food and supply lines into the territory," Murphy told reporters.
"But I think it's the safest option at this point in time, and part of the TEMC is looking at supply chains and what other options can be available to make sure there's no immediate shortages for any supply lines."