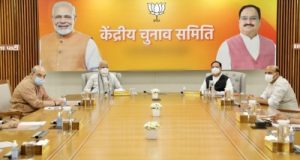 New Delhi, April 9 (IANS) With a month left for the Karnataka Assembly elections, the BJP's Central Election Commission met at the party headquarters here on Sunday to finalise name of the candidates.
Prime Minister Narendra Modi, Union Minister Amit Shah, party President J.P. Nadda, Karnataka Chief Minister Basavraj Bommai, senior party leader B.S. Yediyurappa and other state leaders arrived at BJP headquarters for the meeting.
As per top sources, the CEC meet is to finalise the names of the candidates, and there could be major changes in the last list as political requirements. A list with names of maximum candidates could be out on Monday.
Earlier on Saturday, Shah held a meeting at Nadda's residence to discuss and finalise the list of candidates for the May 10 polls.