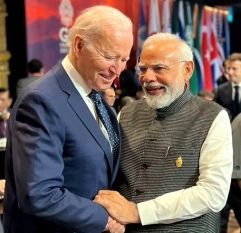 Washington, April 29 (IANS) India doesn't have a skin in the game in US presidential elections. No matter who runs and who wins, India always comes out on top.
Bipartisan support for relations with India has only grown in recent decades and a Democrat in the White House is as good as a Republican if not more, and vice versa.
President Joe Biden has put new energy in ties with India, both in bilateral and multilateral terms. He and Prime Minister Narendra Modi have met bilaterally many times virtually and in-person in Washington D.C. and on the sidelines of multilateral forums around the world.
They will meet again in May in Australia for the Quad summit and then Modi is expected to come to Washington DC on a state visit. Biden will travel later to New Delhi for the G20 summit and there may be more face-to-faces in between, given the frequency with which they have met and spoken so far.
Biden has elevated the Quad to the level of leaders and infused it with unforeseen urgency and launched the Indo-Pacific Framework for Economic Prosperity with India as key member and, lost in excitement surrounding these interactions, not triggered sanctions against Indian under Countering America's Adversaries Through Sanctions Act (CATSA) for buying Russian S-400 Russian air defence systems. The two countries have also taken significant steps towards joint defence productions including the operationalisation of cooperation on emerging technologies.
Relations have not been without challenges though, as it would be. Most starkly, differences over the Russian invasion of Ukraine. Americans, first, complained India has not been forthright in condemning the invasion and, then, frowned over India's continuing purchase of Russian oil, in defiance of western sanctions. But the Biden administration has insulated the rest of the relationship from these tensions, as has India.
To be clear, however, neither Biden nor Modi started this relationship. They are both building on work done by their predecessors – most experts of the relationship will trace the origin for this growing warmth to President George W. Bush and Prime Minister Manmohan Singh, who drove their teams to overcome headwinds to sign the India-US civil nuclear deal in 2008, which, critically, ended India's nuclear isolation after the 1998 Pokhran II tests.
Closer in chronology, Biden's elevation of the Quad, a grouping of India, Japan, Australia and the US, builds on the efforts of President Donald Trump to resurrect the dialogue that had been given up for dead when Australia walked out of it in 2008, four years after the four nations came together for rescue and relief operations in the aftermath of the 2004 tsunami.
The first meeting of Quad 2.0 happened on the sidelines of the ASEAN summit in Manila, Philippines in 2018. It was elevated to the level of Foreign Ministers in 2019, on the sidelines of the UN General Assembly meeting. Biden took it to the level of leaders, as one of his first foreign policy moves.
The India-US relationship is wrapped in bipartisanship on both sides and there is acknowledgement of that in both capitals though there have been occasions when principals lost sight of it, embarrassingly.
New Delhi was so sure of Hillary Clinton's victory in 2016, it had made little or no efforts to build bridges with the Trump campaign and then in 2019, Modi seemingly called for a second term for Trump when they jointly addressed a rally in Houston, Texas. But these have been rare.