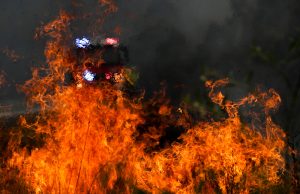 Adelaide, Feb 24 (IANS) Authorities in South Australia (SA) state on Friday have called in extra water bombers amid bushfire conditions due to a heatwave.
Temperatures across the state were forecast to soar above 40 degrees Celsius for the second consecutive day on Friday, with strong winds exacerbating conditions, reports Xinhua news agency.
Total fire bans have been put in place in eight districts including Adelaide, the capital city of SA, and all available Country Fire Service (CFS) crews have been put on standby.
The State Emergency Service (SES) has issued severe heatwave warnings urging people to stay indoors where possible.
Jonathan Fischer, the Bureau of Meteorology's emergency services meteorologist, said Friday's conditions posed a significant risk with fuel moisture having reached near peak dryness and flammability.
"In terms of the prolonged duration of this heatwave, we are looking at the worst conditions since the 2019-20 season," he told the Australian Broadcasting Corporation (ABC).
"There's also a risk of dry lightning across the state on Friday and that's going to further elevate that fire risk," said Fischer.
"Despite the relatively cool and wet spring that we had, conditions have dried out over the last couple of months."
Crews were on Thursday called out to fight a fire that broke out in an industrial warehouse on the Yorke Peninsula in the state, causing A$3 millio in damage.
In anticipation of Friday's conditions, the fire service department has called on the support of water-bombing aircraft.
One of the areas where the danger has been rated extreme is the Lower Eyre Peninsula where the town of Port Lincoln was hit by a fire earlier in February that was caused by failed power infrastructure, destroying 16 properties and damaging another seven.