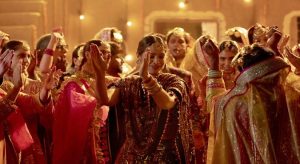 Who celebrate the Glory of Giddha in a collaboration with Noor Zora
By Tanya Banon
February 10, 2023 (IANSlife) Celebrated designer duo Abu Jani and Sandeep Khosla's latest collection celebrates Punjab's hinterland, and Sandeep's hometown. The Glory of Giddha, a short film by the duo, featuring Noor Zora, the first-ever male performer of the Giddha, highlights how the traditional female folk dance performed at social and ceremonial occasions, creates a lasting impression of joy, vivacity, and a vivacious explosion of colour.
Sandeep, who is a native of Kapurthala, was fascinated by Noor Zora, the first-ever male performer of the Giddha. Noor encounters opposition for choosing a dancing style that is typically linked with feminine grace, but he flourishes with the help of those who welcome him — a phenomenon that would not be conceivable without his admirable audacity. He is the leader of the Noor Zora group and enlists other men to perform with him.
Giddha performers from the Noor Zora group are dressed in vibrant attire created by the designers. For this project, Abu Sandeep specifically created clothing with complex tailoring and multicolor silks that shimmer with Zardozdi and Gota embroidery. The striking colours are meant to be a beautiful symbol for elation.
Giddha create poems on the spot at weddings, drawing inspiration from the bride and husband. Performers frequently sing and move their feet to a rhythm they create with their breath instead of using any musical instruments. Their presence fills the space with the enchanted spirit that is so typical of the north Indian state as they sing and clap to the rhythm of their music while wearing bright clothing like jhumkis, tikkas, and parandas.
Says Sandeep, "I have been familiar with Giddha all my life. When Abu and I met for the first time, that same year we went to my hometown for Lohri celebrations. I remember how fascinated Abu was! Seeing Noor Zora made us nostalgic for that moment and we decided to honour that memory through this film."
The short film released on Lohri, a Punjabi festival celebrated on the coldest day of the year to welcome the onset of summer. The tradition involves a crackling bonfire, blazing like a fiery star rising from the earth. Sugarcane sticks are roasted in the flames and then banged against a wall. This banging generates a meditative, bong-like sound. The louder it gets, the more successful the ritual. Punjabi delicacies like Gudd and Revdi are also fed to the fire, making a delicious aroma waft in the air.
"Our work has always been a creative amalgamation of love and audacity. This film unites our most cherished ones with a Giddha group that dares to redefine our culture. It is all about happiness, freedom and the ability to enjoy oneself," says Abu Sandeep.
Friends and family of Abu Jani Sandeep Khosla alongside the Noor Zora group have created a captivating visual experience that captures the ebullience of Giddha in a quintessential Punjabi wedding. Because they wanted to manifest the genuine emotions associated with Giddha, Abu Sandeep gathered their loved ones with Noor Zora and his dancers. No one particularly smiled for the camera because they were already smiling in the moment, cherishing their rich culture and its infinite vivacity.
IANSlife spoke to the designers and the performer about this brilliance of this video and the feelings it evokes:
Going back to your roots for this capsule collection but must have been very emotional, what inspired you and how did you channel that inspiration?
Abu Jani Sandeep Khosla : No matter how far we progress, a part of us always yearns for home. And when you're from Punjab, the nostalgia is rife with music, lyrics and colours. This amalgamation of everything beautiful in my growing years served as inspiration for the Giddha campaign. The inspiration was channeled through pure fabrics, indulgent embroidery and a mix of radiant hues.
If you look back in history to partake in the zenana or harem was the privilege of what is now referred to as LGBTQ+, do you feel somewhere along the way that heritage was lost?
Abu Jani Sandeep Khosla : We believe that heritage inspired art should be available to everybody regardless of who they are or where they come from. What some see as loss of heritage, others see as progressive reinvention.
Share with us your feeling about this collaboration with Noor Zora Group?
Abu Jani Sandeep Khosla : It was wonderful to witness self-created artists who truly do justice to their art. The first male giddha dancer, Noor Zora, is a groundbreaking artist who performs the art form with singular passion and absolute grace.
We have a high regard for inventive thinkers and dedicated artists. When we came up with the idea for this film with Punjab being close to our hearts , the decision to work with the group came naturally . As humans and artists, our sensibilities are deeply rooted in our belief that art can transcend narrow definitions and gender lines to set our minds and hearts free to create things we have never seen or done before. The collaboration was everything we had visualised it to be.
The film Glory of Giddha captures the beauty and energy of Giddha and its performers in a way that truly encapsulates the magic and spirit of Punjab. We are honored to bring this traditional dance to the forefront and introduce it to a wider audience. It's a story of cultural richness, traditions and it is still relevant and relatable for the new generation.
Lastly, as designers setting the pace for a season do you believe that revival and restoration are very much a privilege you have to shoulder and share through your work?
Abu Jani Sandeep Khosla : We create spontaneously and indeed, revival and restoration is an important part of our work. We are grateful to have built a brand that enables us to maintain the integrity of Indian craftsmanship.
We never rest on our laurels and instead reinvent our expression to break the highest bar. We are always learning and are madly in love with our work. We remain dreamers, with an unbridled imagination that craves to convert impossibly rich dreams into reality.
As a performer how rough was it to break into something which is viewed as "feminine perorgative"?
Noor Zora : As a young child I used to dance along with my six sisters when they performed the Giddha at family weddings and festivals. It's beauty and the joy it creates completely won my heart and captivated me. I was intent on performing it professionally when I became a man. Thankfully my family are educated so their resistance was minimal even though they had reservations and weren't exactly supportive or happy about it. There were those in our community who made fun of me and passed snide comments behind my back. But it never deterred me from my passion and dedication to my dancing. You have to be devoted to your art and determined to fulfill a dream. The acceptance will happen it cannot be the reason for your craft. That is the real key. To want to excel and hone your craft. To innovate and create something new and extraordinary.
Do you feel the audience has evolved and now embraces talent like yourself who do not confirm to social stereotypes both personally and professionally?
Noor Zora : Once audiences witness our work and see how diligently we perform the giddha and uphold its beauty, grace and dignity, they lose their reservations about us being men dressed as women. They are seduced by the craft and quality of our performance and embrace us and our work.
What is it about your work brings the most pleasure to you?
Noor Zora : Everything about the dance and performing it is sheer joy. It is akin to spiritual meditation. From the moment we do shringar and then dress in our finery to reaching an event and being greeted by families. The sense of welcome. When we perform we literally lose ourselves to song and dance. It's deeply emotional. The sense of community it creates and the outpouring of emotion and joy is very special.
It is an absolute privilege to have introduced a new genre of giddha as a male performer. I live to dance and to perfect my work. To do Giddha and Punjab proud is the mission.
Lastly share your thought on this collaboration with Abu Sandeep and how do the outfits inspire you?
Noor Zora : When Sandeep Khosla ji called me from London a few months ago I was unaware of his work and how legendary Abu Jani Sandeep Khosla are in the world of Fashion. He said they wanted to work with us on a campaign. We arrived for the shoot thinking it would be a small shot lasting a couple of seconds. I never imagined we would be the focus of the campaign.
I have no words for how absolutely thrilling the experience was. Their vision and belief in us to champion our work with such a beautiful film means the world to me.
When they dressed us it was like a fantasy come to life. Such majestic grace, such extraordinary craftsmanship. They are Masters. An unforgettable experience. The film has brought us so much acclaim and appreciation. Feel so blessed and grateful.