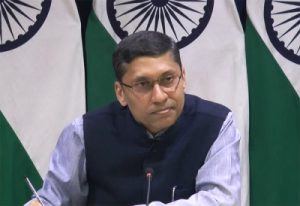 New Delhi, April 4 (IANS) A day after China renamed 11 places in Arunachal Pradesh as part of its efforts to re-emphasise its "claim" on the state, the Government on Tuesday rejected the move calling the state an "inalienable" part of India.
Official spokesperson of the External Affairs Ministry Arindam Bagchi said, "We have seen such reports. This is not the first time China has made such an attempt. We reject this outright. Arunachal Pradesh is, has been, and will always be an integral and inalienable part of India. Attempts to assign invented names will not alter this reality."
This is the third time that China has 'renamed' places in Arunachal Pradesh, which it calls "Zangnan, the southern part of Tibet".
The list of names released by China includes five mountain peaks, two land areas, two residential areas, and two rivers.
China had earlier released similar lists in 2018 and 2021.