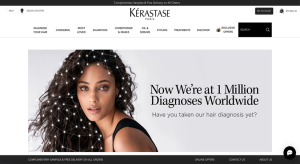 Haircare with a click
By IANSlife
January 11, 2023 (IANSlife) Since its founding in 1964, Kérastase has become a household name in luxury professional haircare, therefore it is exciting to announce the opening of its official online store in India. The Paris-based legacy brand is proud of its presence in India and has been providing Indian customers with a customised but opulent hair care experience for more than 16 years by collaborating with only the most opulent salons nationwide. More than 430 salons in 37 cities, including Mumbai, New Delhi, Bangalore, Kolkata, Chennai, Ahmedabad, Pune, Hyderabad, Surat, Chandigarh, Lucknow, and others, provide the brand's high-end hair care rituals and home care products.
The brand's strategy in India is driven by the goal of giving customers an exceptional luxury experience through exquisite products and bespoke, in-salon treatments, all supported by scientific know-how, professional knowledge, and a gut-level intuition of what customers really desire from hair care.
Kérastase successfully launched Social Commerce for its salon partners in July 2020 and has now forayed into the world of Direct To Consumer on www.kerastase.in! It is constantly embracing creative approaches to create and provide customised luxury hair care solutions to Indian consumers!
Commenting on this milestone for the brand Anjali Pai, General Manager, Kérastase India says, "Over the years, Kérastase has seen an overwhelming response to its luxury salon presence across the country and today we are very pleased to announce the launch of our official online store in India. Our aim is to reach out to new consumers through this platform and bring them to the salon – which is where the true Kérastase experience can be had…in the most luxurious environment and under the care of the most talented hair care experts"
To align with the brands vision of providing unparalleled luxury experiences and reinforce its professional roots, www.kerastase.in is designed with some unique features such as a "Salon Locator", to help consumers find their nearest Kérastase partner salon and an "Online Hair Diagnosis", a six-step diagnosis tool that helps consumers find their perfect hair care routine in just 2 minutes! The website also offers complimentary samples on every order and an exclusive holiday gift box on every 2 products!
With this launch, Kérastase is confident in its ability to reach out to new consumers across the country and introduce them to true, luxury, professional hair care.