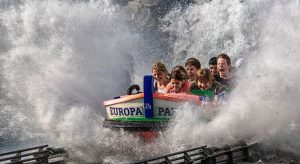 These water parks undoubtedly offer a welcome reprieve from the oppressive heat
By Olivia Sarkar
April 17, 2023 (IANSlife) Want to spend a few hours escaping the daily grind with the ideal blend of excitement, camaraderie, and splashy entertainment? Don't worry; we have the ideal solution! Even the most obstinate worries can be banished by the excitement of riding a roller coaster or the exhilaration of sliding down a water slide. So get ready to relax and revitalise yourself at the top water and amusement parks in and around Delhi.
The water parks undoubtedly offer a welcome reprieve from the oppressive heat. The nicest thing about all of these parks is that they are accessible to people of all ages, so nobody will become bored or feel uncomfortable. Time to don your bathing suit and jump in!
Take a look at this list of water parks and theme parks in Delhi-NCR along with their prices and other pertinent details:
Worlds of Wonder
Near The Great Indian Palace Mall in Noida is the water park Worlds Of Wonder. With a Go Karting Track, it is the biggest theme park in North India. It contains 26 world-class slides, a wave pool with a beach motif, the largest man-made lake, a 360-meter lazy river, and a rain dancer. There are two distinct areas: La fiesta (for families with children) and The Road Show (for excitement and action, especially for adults).
Timings: 11:00 AM – 7:00 PM
Weekdays: Adults Rs 1149/- Kids Rs 50/-
Weekend: Adults Rs 1299/- Kids Rs 999/-
Fun and Food Village
Fun N Food Village is one of Delhi's most well-liked and frequently frequented Water and Amusement Parks, and it is situated on Old Delhi Gurgaon Road, Kapshera. Additionally, the theme park is accessible in other cities like Dubai and Tashkent. The Indoor Snow Park, Lazy River, Amusement Rides, Water Rides, Food Court, and Bar are its main draws.
Timings: 3.30 PM – 6.30 PM (Monday to Friday), 3:30 PM- 7:00 PM (Saturday – Sunday)
Couples Rs 1200/- Adults Rs 700/- Kids Rs 400/-
Adventure Island
Adventure Island is a well-known water park in Delhi that is close to the Metro Walk Mall in Rohini. The park, which spans more than 60 acres, has been split into two sections: Adventure Island and Metro Walk. Among the abundance of additional activities, the freefall rides, Demolition Derby, Twister, and Flip-Out are a few of the more well-liked attractions.
Timings: 11:00 AM – 7:00 PM
Adults Rs 650/- Kids Rs 550/- Senior Citizens Rs 350/-
Oyster Beach Park
Behind HUDA City Metro Station Oysters Beach, Sector 29, is where you'll find the Oyster Beach Park. The number of water rides at this water park is overwhelming, including Sky Fall, Pirate Station, Typhoon Tunnel, Wave Pool, and Rain Dance.
Timings: 11:00 AM – 6:00 PM
Adults Rs 899/- Kids (3ft-4ft) and senior citizen Rs 599/-
Drizzling Land
About 30 different attractions are offered at Drizzling Land Water Park. It features a separate Kids area that was created especially with children's safety in mind. There are also other rides including the Revolving Tower, Wave Pool, Disc Coaster, etc.
Timings: 10:00 AM – 8:00 PM
Adults Rs 550/- Kids Rs 450/- Stag Entry Rs 750/- (The price increases by Rs 100/- for children and adults on weekends and government holidays)
Jurasik Park Inn
A huge Tyrannosaurus Rex is stationed at the entrance to Jurasik Park Inn to greet visitors. It can be found on NH 44, GT-Karnal, in Sonipat close to Murthal. There are 6 slides, 21 rides, and a designated area for holding events. The Wave Pool, Kids Pool, Lazy River, Rain Dance, 70-foot-high Waterfall, and Giant Wheel are just a few of the activities. A Go-Karting track and Adventure Zone are also included.
Timings: 10:30 AM – 6:30 PM
Weekdays Rs 800/- (adults), Children/senior citizen Rs 600/- per person
Weekend/Public Holidays Rs 1000/- (Adults), Children/senior citizen Rs 800/- per person