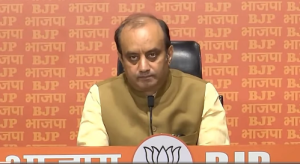 New Delhi, Sep 3 (IANS) The BJP on Sunday launched  a scathing attack on Udhayanidhi Stalin for his statement against the Sanatana Dharma and termed it as "parasitic" behaviour and shameful.
Udhayanidhi, who is Tamil Nadu's Minister for Sports and Youth Affairs and son of Chief Minister M.K. Stalin, during a meeting on Saturday, said that "Sanatana Dharma has to be eradicated just like mosquitoes, malaria, dengue and Corona."
Addressing a press conference at the party headquarters, BJP national spokesperson Sudhanshu Trivedi said, "The topic addressed by the DMK leader Udhayanidhi Stalin was the 'Eradication of Sanatana Dharma'. He read the statement from a paper. It is highly shameful. It is a case of the hate speech."
The statement he gave was not accidental but absolutely intentional, he claimed.
Taking a swipe at the Opposition bloc I.N.D.I.A, the spokesperson said," Within just 24 hours of the conclusion of the Mumbai meeting of the 'Ghamandiya Gathbandhan', this 'bomb' exploded."
"Who wrote that paper for Udhayanidhi? What's the role of 'Ghamandiya Gathbandhan' in this?," Trivedi said attacking the I.N.D.I.A bloc.
In a veiled attack on Congress leader Rahul Gandhi on his "mohabbat ki dukaan (shop of love against hatred), the spokesperson said, "Udhayanidhi's statement has clearly unveiled the true face of the 'mohabbat ki dukaan'.Notably, this is not a statement given in isolation, this is completely consequential."
He also accused various leaders from the Opposition parties of making derogatory remarks on Hindu religion.
"(Samajwadi Party leader) Swami Prasad Maurya called Hindu religion a 'Dhokha' is also from 'Ghamandiya' (alliance). Not only this, the (Karnataka) PWD Minister from Congress, Satish Jarkiholi, made a cheap remark about the word 'Hindu'. The list continues…and they all have been the significant members of the Ghamandiya Gathbandhan," Trivedi said.
He further said, "The Supreme Court (SC) has given an observation that it will take the suo moto cognizance of any hate speech. I hope that the SC will take appropriate step on this."
Echoing a similar sentiment, Union Minister Anurag Thakur wrote on X, "It is not surprising that DMK or any other party of 'ghamandia' alliance nourishes so much hate against Hindus and Sanatan Dharma to the extent of equating it with 'dengue' and 'malaria' and provoking others to eradicate Sanatan Dharma."
"A name change from UPA (United Progressive Alliance) to 'Ghamandia' can't hide the truth that this unholy alliance of corrupt people has not stopped hating Bharat, its rich culture and syncretic Sanatan Dharma which has been connecting the nation since the ages."
Earlier in the day, Union Minister Rajeev Chandrasekhar while slamming the remarks of Stalin termed as "parasitic" behaviour.
Reacting to these remarks, Chandrasekhar wrote on X, "It must become a national mission – a mission for all Indians to rid our country and our politics of these shameless exploitative dynasty families of UPA/I.N.D.I.A. These dynasties who have made themselves rich beyond imagination and always kept people poor and vulnerable. These dynasties are truly the parasites who for decades preyed on peoples vulnerabilities and sucked out our nations and peoples wealth."
He further said, "As a cover for their corruption and parasitic behaviour, they create narratives like 'Protecting Dravidian Land' and abuse Hindu faith. The only thing they protect is their own wealth and politics. In all their years, they have not done even 1 per cent of what PM Narendra Modi ji has done for Tamil Nadu in only 9 years."