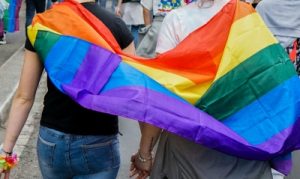 New Delhi, April 26 (IANS) The Central government on Wednesday urged the Supreme Court to consider leaving questions raised in the pleas seeking legal sanction for same sex marriages to the Parliament, while stressing that there are several ramifications not only on society but unintended ramifications on other statutes as well.
On the fifth day of hearing, Solicitor General Tushar Mehta, representing the Centre, submitted before a five-judge constitution bench headed by Chief Justice D.Y. Chandrachud that the court is dealing with a "very complex subject", which has a "profound social impact".
Mehta said the right to marry cannot mean compelling the state to create a new definition of marriage and urged the top court that instead of taking it any further, the matter should be left to the Parliament. He contended that all religions treat marriage as a social institution, which confers legal status and they are pre-dating statutes and it is not a value judgment.
"This court can't use different lenses for different categories of persons under the same law. It will be impossible for this court to reconcile the situations," he said, contending that in LGBTQIA+, it isn't explained what '+' means and there are at least 72 shades and categories of people in '+'.
Mehta said if this court were to give recognition to undefined categories and the judgment will affect 160 laws, how will this scenario be regulated.
He said the real question is who would take a call on what constitutes marriage and between whom and the issue should be left to the Parliament, considering the complexity of the issue and also the social ramifications involved in the subject.
"There are several ramifications not only on society but unintended ramifications on other statutes as well" and there are many legal provisions spanning different statutes which cannot be reconciled if the prayers, made in the petitions, are allowed, he said.
Mehta queried the bench – comprising Justices S.K. Kaul, S. Ravindra Bhat, Hima Kohli, and P.S. Narasimha – shouldn't the matter first go to the Parliament or state legislatures and the Parliament has accepted their right to choose — autonomy in terms of sexual preference and privacy in form of intimate relationships.
He said that the 2019 Transgenders Act conveys the legislative policy by bringing within it not only transgenders but various other communities and the question is whether the right to marry can be prayed for as a judicial order?
Mehta submitted that mere declaration, that they have a right, would not be sufficient and the moment the right to marry is recognised, it will have to be regulated and emphasised that there is no absolute right to marry also for heterogeneous couples and according to law there is minimum age, bigamy is outlawed, there is a regulation on separation etc.,
He questioned, how those rights would be regulated and several regulatory provisions follow legal recognition of a social relationship and only Parliament can conceive of several situations that may arise and regulate them, and stressed that it is not possible for court to conceive of all possible scenarios and the Parliament consciously omitted this provision under Special Marriage Act (SMA) and "person" in place of "man" and "woman" (in SMA) is of wider amplitude.
Mehta cited judgment to point out that courts should exercise restraint in matters of legislative policies. The bench if he is relying on Dobbs (US judgment against abortions), "we are far beyond it and fortunately so".
The Chief Justice said Dobbs said a woman has no bodily autonomy and this theory has been debunked long back in our country and added that fortunately, we've gone far ahead of many western countries in several issues.
The arguments in the matter will continue on Thursday. The apex court is hearing a batch of petitions seeking legal sanction for same-sex marriages.